A wide range of modern external /entrance wooden doors.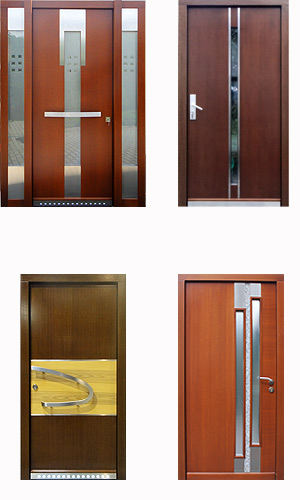 With our wooden doors we guarantee:
• the best quality of material – we only usw wood of prime selection quality,
• modern design – the doors you order will be attractive for many years,
• the best machining centres use – the attention to detail of each doors is very important,
• thermal insulation and safety – wooden doors thickness up to 78 mm is a proper thermal insulation guarantee and protection against unwelcome guests,
• optimal construction and technology – with the times we use modern technologies and solutions to produce our wooden windows.
Our wooden windows is a energy saving of about 30% for years.
The choince of proper entrance doors is extremaly important for the buildings architecture. It's the owners visiting card. It protects against outer factors infuence and against burglary.
Our wide range of entrance doors offer, patterns diversity, individual projects realisation as well as professional counseling will certainly help you choose the doors that fully meet your expectation.
We produce whole wooden doors that may be decorated in several ways, e.g. with ornamental glass, forged steel or carved. You will surely find something that suits your taste.

These are some of our external doors patterns.
| | | |
| --- | --- | --- |
| | | |
| pattern 1 | pattern 2 | pattern 3 |
| | | |
| | | |
| pattern 4 | pattern 5 | pattern 6 |
| | | |
| | | |
| pattern 7 | pattern 8 | pattern 9 |
| | | |
| | | |
| pattern 10 | pattern 11 | pattern 12 |
| | | |
| | | |
| pattern 13 | pattern 14 | pattern 15 |
| | | |
| | | |
| pattern 16 | pattern 17 | pattern 18 |
| | | |
| | | |
| pattern 19 | pattern 20 | pattern 21 |
| | | |
| | | |
| pattern 22 | pattern 23 | pattern 24 |
| | | |
| | | |
| pattern 25 | pattern 26 | pattern 27 |
| | | |
| | | |
| pattern 28 | pattern 29 | pattern 30 |
| | | |
| | | |
| pattern 31 | pattern 32 | pattern 33 |
| | | |
| | | |
| pattern 34 | pattern 35 | pattern 36 |
| | | |
| | | |
| pattern 37 | pattern 38 | pattern 39 |