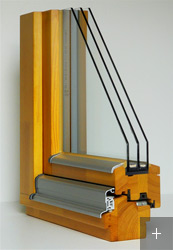 NEW!!! ENERGY SAVING WINDOWS ECO-ENERGY 78
We also offer new energy saving windows built on profiles that are thicker than commonly used 68 mm. The use of thicker profile 78 mm provides much better thermal insulation parametres and enables gaining U factor for whole window equal to 0,8 to 1,0 W/m2K. Installation of such windows may lower heating costs of even 30% thats to use of thicker profiles, triple glazing filled with Argon and plastic spacers that may lower U factor of the window of 10%.
Wooden windows ECO-ENERGY 78 are made in all custom shapes – round, arched, triangle and other.
Basic characteristics of ECO-ENERGY 78 windows are:
• blow thermal insulation ratio – from 0,8 W/m2K
• triple glazing with glass 0,7 W/m2K
• extra – "warm edge" – plastic spacer between glass taht lowers thermal insulation factor of window even of 10%,
• two seals standard,
• logal and exotic wood,,
• lowers heating costs in building.

Wooden windows ECO-ENERGY 78 are available in many sorts of profiles – classic, softline and retro, equipped in ROTO NT or DESIGNO hardware, thermal drip, glazing stripe. It is possible to add anti burglar systems RC1 (WK1) and RC2 (WK2) and other accessories: flat doorstep in balconies, falling thereshold, vent airs or reed or bars in many sorts.
On request we also offer windows installation with special sealing bands.
NOur wooden windows ECO-ENERGY 78 are recommended for those who value ecology and warmth. Those who wish to lower heating costs and save are also welcome. It's possible with our windows!