The essential adventages of external roller shutters are:
• better warmth insulation: pleasant cool in summer and savings of energy in winter,
• anti-theft protection: particularly when locks, bolts or protecting hangers are used,
• accoustic insulation,
• protection against atmosphere factors influence eg. rain, strong wind, hail,
• windows and doors utility period increase.

In our offer there are external roller shutters of folowing systems:
• adaptative system - roller shutters in standard and oval aluminium chases, • INTEGRO system - roller shutters in aluminium cases possible to cover from outer side, • RKS system - shutters in styrofoam cases to new buildings, • Sutters mounted to the window frame in PVC cases with slides mounted befor window settling.
Standard external roller shutters.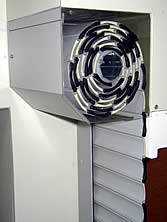 This system is designed for existing buildings. The shutter construction is based on simple and reliable solutions. Two pieces case made of aluminium plate available in 6 sizes. Possibility of using additional anti-insect net integrated with shutter in one case. Standard system enables mounting to the wall or in window niche.
External roller shutters – OVAL system.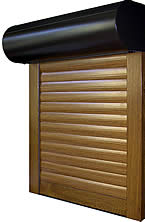 Oval system is a combination of functional and reliable standard roller shutters with elegant and modern look. Rounded cases and slides make Oval system a decoration of outer elevation. Possibility of using additional anti-insect net integrated with shutter in one case – special two chamber slides are used and anable independent use of roller shutter and anti-insect net. The anti-insect net is between the window and the shutter's crust. It enables its hanling from inside even when the crust is down.
External roller shutters – RKS system.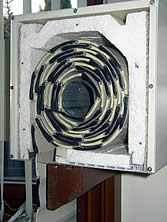 The lintel cases system as well as INTEGRO system is used in new building. The characteristics are: good acoustic and thermal insulation. The lintel cases are made of styrofoam stiffed with steel sticks with a leyer of plaster carrier outside.
External roller shutters BUILT-IN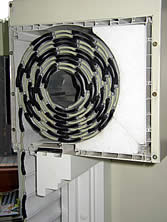 The shutter case is made of PVC and insulated with styrofoam. It is first mounted above a window or door and next both assembled are mounted into the wall. This system may be used in a new as well as in an old building. The case and the fences are available in white, brown or wood pretending decor. The case construction enables revision from inside the building.
internal blinds and jalousies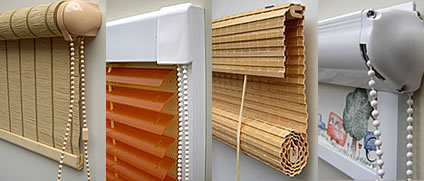 Internal blinds and jalousies we offer are New aesthetics in your house. Our proposals will surely meet your demands and make your surroundings cosy and more interesting.