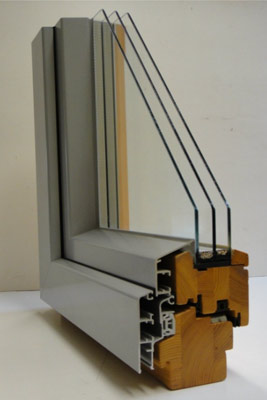 Wood + Aluminium Windows
We introduce durable wood+aluminium windows. Thanks to use of additional aluminium profile our windows will last forever. Aluminium profile on the outer side of the window extends windows durability and the wood used internally makes the construction of the window and proper atmosphere. This construction of our wooden aluminium windows makes that they do not need any special conservation or maintenance operations.
Aluminium profiles of GUTMANN is available in CORA, LARA and MIRA versions. It is connected with window by special clips enabling air access and wooden surface ventilation. Aluminium is covered with powder paint in wide range of colours according to customers wish.
Aluminium cover protects the woodwork against bad atmospheric facors (such as rain or sun) influence. The connection of wood and aluminium allows to keep aesthetic and cosy character of the interior thatks to wooden windows and modern look of the building outside thanks to aluminium.