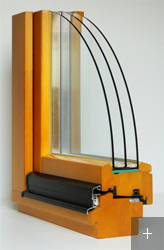 Energy saving wooden windows ECO-PASIV IV 88 and IV 92 are particularly recommended for low energy and passive houses. Low energy or pasive houses are properly designed, equiped with heat pomps and recuperators. Theese also have properly adapted windows surface which adopted our ECO-PASIV IV88 and IV92 profile gain well energy-saving parametres below 0,8 W/m2K. Much thicker window profile IV88 and IV92 compared to standard IV68 profile improves windows thermal insulation significant.
This profile enables use of thicker, much warmer two-chamber glazing packet 4LE/18Argon/4/18Argon/4LE with thermal insulation factor Ug=0,5 W/m2K. The use of such glazing strikes a balance between the lower thermal insulation factor U, the highest clearance, colours neutrality as well as optimal energy permeability. This glazing package may also be equiped in plastic spacer TGI or SWISSPACER in chosen colour which improves glazing parametres, reduces cold bridge and prevents against vapour condensation. All these advantages contributes to comfortable and cosy rooms atmosphere gaining.
Wooden energy saving windows ECO-PASIV IV88 and IV92 are available in many sorts of profiles – classic, softline and retro, equipped in ROTO NT or DESIGNO hardware, thermal drip, glazing stripe. It is possible to add anti burglar systems RC1 (WK1) and RC2 (WK2) and other accessories: flat doorstep in balconies, falling thereshold, vent airs or reed or bars in many sorts.
On request we also offer windows installation with special sealing bands.
For windows better thermal insulation we should focus on their installation. Energy efficient windows should be installed in a way that reduces thermal bridge between the edge of the window and the buildings wall. It's the reason why we propose windows installation not only in traditional way but also with use of sealants of well known company ILLBRUCK.